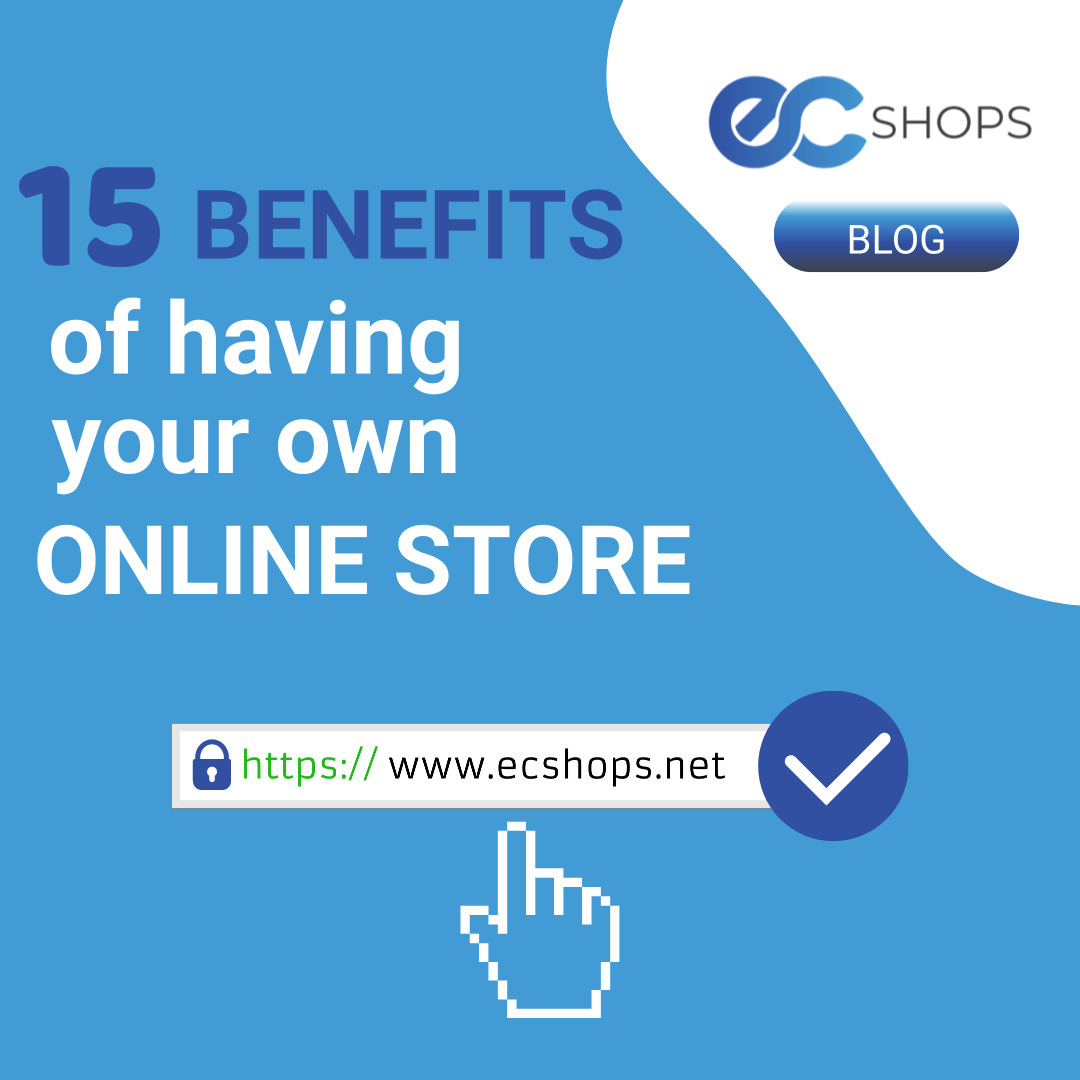 15 benefits of having your own ONLINE STORE
In the 21st century, every entrepreneur already knows that selling products without an online presence is almost impossible. You can learn more about this from our blog post "18 Reasons to PROMOTE and SELL your Products ONLINE". However, when creating your own business, the question always arises - "Where is it better to sell products in the online world?".
There are 2 key opportunities: your own online store and marketplaces (like Amazon / eBay).
Following this we will tell you top 15 benefits of having your own online store, instead of just using marketplaces as a sales channels:
No competition inside your store. As compared with the Marketplace, you do not need to compete with other sellers with an equivalent product range. Once you decide to present in a huge marketplace, hundreds of similar brands to yours are going to be displayed, despite the fact that your product may be exclusive and better quality. Your products could be lost among an enormous quantity of competitors and you will find it difficult to become more visible to the buyer.
Control over your brand image. Working with your own online store you will focus 100% on your brand, your niche and your customer. You will be able to customise your shop as you wish. You have full control and freedom to choose the layout, images, buttons, text and other content as you would like to pay potential customer's attention. Your own online store is the biggest source of self promotion and branding.
Direct interaction with buyers. You will be able to directly interact with your potential buyers and existing customers through your own online store. You can do it by live chat, chat bots or other support channels.
SEO (Search Engine Optimisation) possibility. Marketplaces like Amazon have a high volume of traffic, but so does a search engine. Moreover, traffic to a web marketplace does not mean that your brand will get any of that traffic. On your own online store you will be able to control the internal and external SEO (Search Engine Optimisation) as you wish.
Re-targeting, Up-selling and Cross-selling. There are some advanced selling methods like retargeting, which implies reminding your visitors of your products after they leave without buying. This method shows your visitors relevant ads when they visit other websites and therefore they are likely to buy from your company. Upselling and cross selling are two more methods to sell more products to a buyer. Cross selling means offering the customer a related product, while upselling typically means trading up to a better version of what's being purchased. These techniques are often used on your own online store induce a visitor to buy more.
Instant payment in your bank account. You do not need to wait for your payments as in the case of marketplace websites. Payment gateway providers directly deposit the amounts to your bank account within 24 to 72 hours.
Almost full profit margin. You will keep the 100% profit margin from your product price. The sole thing you have to share is the Gateway fees. You have to pay to Payment Gateway companies like PayPal.
Independence. You do not have to run by anyone's set of rules. Mostly the biggest risk of marketplaces is that they have rights to delete any product or seller's account anytime. Also there is a long list of prohibited items that you cannot sell on the marketplace. For example, on Amazon there are such restrictions like you are not able to sell products that compete with a service offered by Amazon (certain streaming media players, voice assistant devices and related accessories). With your own online store, you will only follow your own rules.
More experiment space. You will be able to experiment with product layout, presentation, description, price and so on to improve customer experience. Similarly you can make check points on your online store to assess from where traffic is coming and where it is going. Customers now prefer brand experience instead of just brand interaction. Those experience points can be for example a fun game to win any discount or any other idea to attract buyers and induce them to make a purchase.
Data analysis. Marketplaces limit the information you can collect about your customers and traffic. Nothing can give you that much detailed information as your online store does. With the support of some analytical tools you will capture and analyze every movement of your traffic to develop your business.
Customer loyalty. The shortage of customer loyalty in marketplaces makes it difficult to get repeat customers. Selling from your own online store allows you to create a more personal relationship with the customer due to the additional options your customer has to contact, communicate, and learn about your products. In your own online store, many strategies are often applied to develop your customer relationships and achieve a loyal community. Buyers that reach your store are there because they want to know more about your exact product, not because they are checking out a general topic and happened upon your products.
Increased marketing opportunities. You can reward the loyalty of your customers by offering them discounts. Even a small sign of appreciation can go a long way when you are starting out. It increases sales and forms a bond between your buyer and your brand. Your own online store enables you to guide the conversation how you wish: you can have photo galleries, podcasts, video tutorials and so on. Creating a blog also can be a perfect way to increase continuous traffic to your store. All these activities have the potential to drive revenue.
Selling business-to-business (B2B). B2B sales are one of the most profitable ways to sell your products, but marketplaces are completely focused on B2C (business-to-customer) sales. B2B buyers have very high standards, and they frequently purchase similar products at repeat intervals. If a B2B buyer attempted to form this sort of purchase on Amazon, they may run into problems like inconsistent quality, or be unable to seek out the precise same item they purchased last time. With your own online store, you will provide what B2B buyers are looking for: a trusted, consistent brand that delivers what they need.
Recognition. Once you buy something from a marketplace and someone asks where you got it from, what do you say? The biggest number of people say the name of the marketplace, not the actual seller. When consumers buy through your own online store, you are more likely to get more referrals, recognition and feedback as your brand presence is higher.
More selling channels. If your business is on a marketplace, you are mostly stuck there. Many of Amazon sellers began trying to bring people into new channels they were creating and faced difficulties, because customers had grown accustomed to buying those products on Amazon at those unsustainable prices. These are now Amazon's customers, not yours. If you are selling through your own store, you are always able to add any marketplace as an additional sales channel.
As you have seen, these are 15 benefits of having your own online store for your business. If you have any comments or questions about the above, we invite you to contact us.


Finally, if you are ready to make the leap to having your own website / online store, and you need help to get started, get in touch with ECShops. Our team of experts will advise you based on your business and its needs.
When you choose your own online store, you choose yourself.